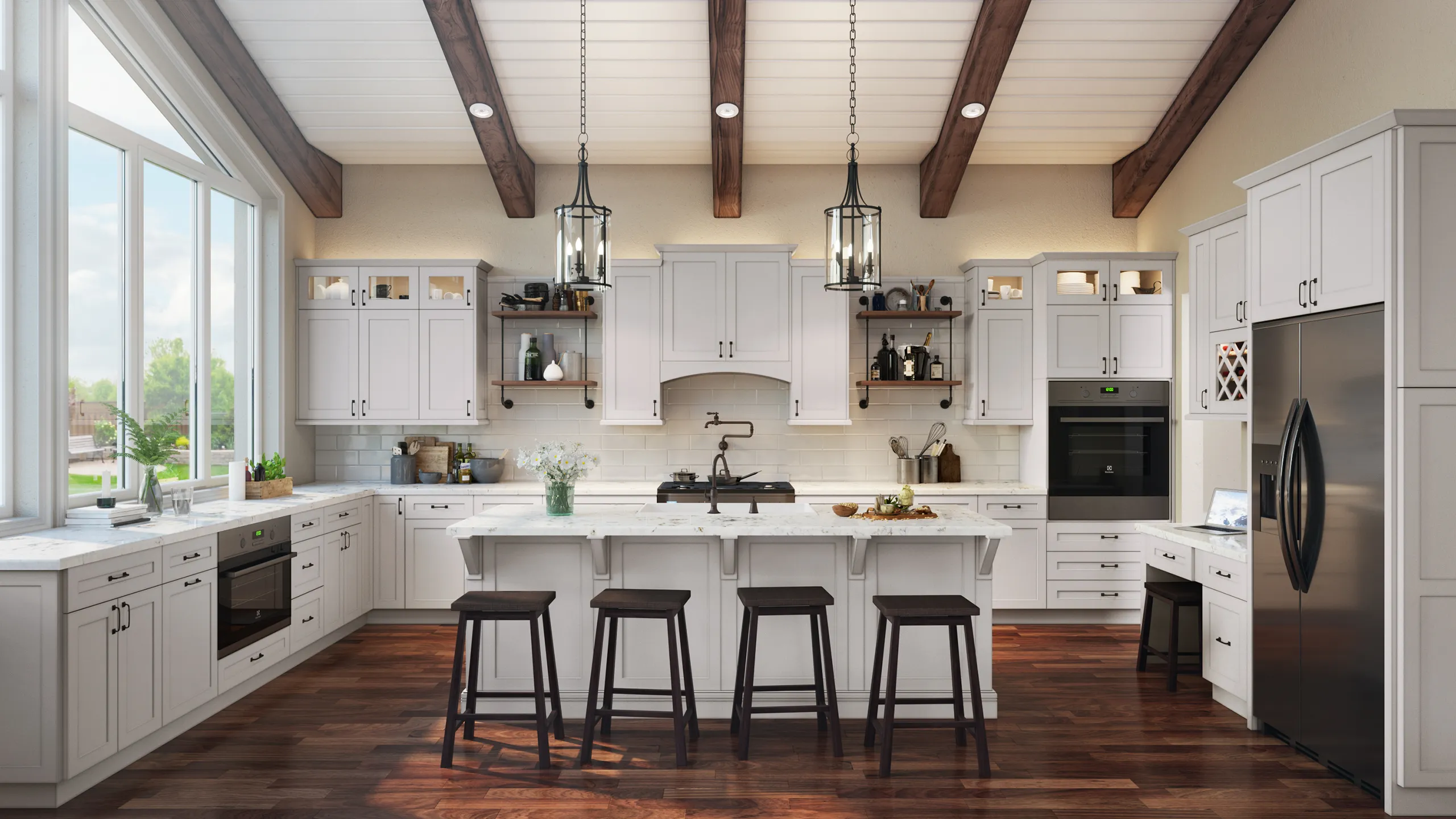 21 Chic and Stylish White Kitchen Cabinet Ideas
When designing a new kitchen, you have a lot of decisions to make. You have to decide between custom and ready-to-assemble, or RTA cabinets. You need to decide on new kitchen cabinet styles for your design.
But what are the best styles for a white cabinet? How do you know these styles will work in your space? What's the best way to design around white kitchen cabinets?
The good news is that there are a lot of different styles that work for white cabinets. These are 21 different design ideas for your new white cabinet installation.
1. Retro
Most people generally think of design trends from the 1960s and 1970s when they hear the word retro. This usually involves bold color choices and unique patterns. Pair these with white cabinets for an amazing retro kitchen design.
2. Victorian
The Victorian era encompassed most of the 1800s and ended in 1901. This was the reign of Queen Victoria in England. The styles from this time period are still very much popular today, and white cabinets are perfect for these kitchens.
3. Farmhouse
The farmhouse style gets its name from the old farmhouses that inspired the style. The hallmarks of this style are large sinks and plenty of natural lighting. White cabinets are extremely popular for this style of kitchen as well.
4. Bohemian
The best part of the Bohemian style is that there aren't really any rules. It's defined by mixing and matching colors and patterns to your heart's content since there isn't any structure to speak of. That means white cabinets can blend in perfectly with this style.
5. Country
Country-style kitchens have been popular for a very long time. It's even starting to become popular in suburban and urban areas as well, and white kitchen cabinets are always a great place to start designing one.
6. Industrial
The industrial style has also become extremely popular. This usually includes dull tones, metal accents, and sometimes even exposed piping. Match grays and blacks with white cabinets for a gorgeous industrial kitchen.
7. Rustic
Rustic kitchens should give you the impression of being out in the wilderness. This style usually uses very natural-looking materials such as stone and wood tones. Mixing this with white cabinets creates a beautiful contrast that your friends will love.
8. Colonial
The colonial-style dates all the way back to the days of early European settlers in the United States. With white cabinets, it's a chic and elegant look perfect for any kitchen.
9. Modern
Modern kitchens are usually characterized by minimalism and neutral colors. White cabinets are perfect for this and add light to the room.
10. Spanish
The Spanish style involves a lot of round edges, colorful tile, and even clay tones. Matching this with white cabinets can create a beautiful contrast in any kitchen.
11. Italian
Italian-style kitchens are also incredibly popular in the United States. These include patterned tiles and beige tones that match well with white cabinets.
12. English
In the United States, English-style kitchens usually include open shelving and wooden countertops. This pairs well with your white cabinets for a kitchen that feels straight out of the English countryside.
13. French
The French style also has distinct tile patterns and red tones. This makes white cabinets stand out well in contrast to these trends.
14. Mid-Century Modern
Mid-century modern is the blending of retro and modern styles in a way that makes both nearly indistinguishable.
15. Vintage
Vintage is characterized by the appearance of being well-used and well-loved. This means that there are small imperfections in everything you see. It's very popular to use white cabinets in such a style.
16. Open-Concept
An open-concept layout has become more and more popular recently. This means that you can see the entirety of your main living spaces from anywhere in that space. This means that any guests will admire your white cabinets from anywhere in the living room or kitchen.
17. Small Kitchens
If you live in a small house or apartment, then you might not have much space in your kitchen. This means that you might need to get a little creative with your kitchen cabinet ideas. White RTA cabinets come in all shapes and sizes to fit your kitchen right now.
18. Modern Farmhouse
Modern farmhouse style blends the farmhouse and modern styles. This means that you get the clean minimalism of the modern style and the farmhouse feel at the same time. Again, white cabinets are always a great choice for a more modern minimalist look for your new cabinets.
19. Beach House
Beach houses tend to have bold colors and nautical themes. This also means it's refreshing to tone down the bold tones with some white kitchen cabinets. This pulls the whole look together and prevents you and your guests from being overwhelmed by so many colors in your space.
20. Cottage
The cottage aesthetic has become more popular in recent years. The idea behind this style is to make the space seem as warm and cozy as possible. This might include warm colors and ambient lighting for the evening hours.
There's no way better to feel cozy than with a beautiful white kitchen cabinet set.
21. Urban Modern
In this context, the word urban refers to living in a city area rather than a rural or suburban neighborhood. This sometimes means smaller spaces or views of the city you live in. Kitchens in these areas usually include a lot of brick features that go well with many white kitchen cabinet styles.
Design Your White Cabinet Kitchen Today
There are a lot of ways to make a white cabinet work in your renovated space. Any of these style ideas are a great place to start designing your new kitchen.
And when you're ready to get your new white RTA cabinets, then you need to start here at White Cabinet. We're the best place to get a variety of RTA white cabinets right here in the United States.
We also offer samples and a free kitchen design. Go ahead and contact us today to begin your new kitchen design journey for free.