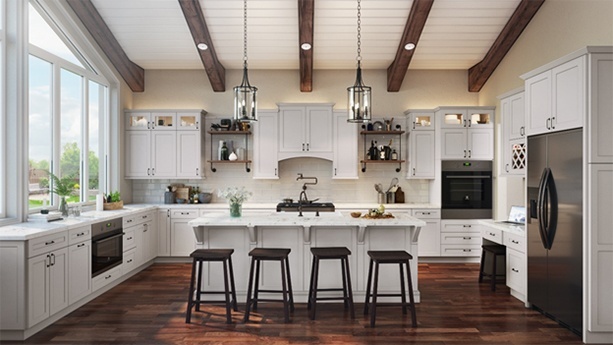 4 REASONS WHITE CABINETS ARE THE #1 CHOICE FOR FAMILIES IN USA
Remodeling your home is an artistic endeavor, and choosing white kitchen cabinets will significantly impact the openness and energy of the room. It will also allow you to feature other unusual features around your kitchen space without the interference of distracting color schemes. So, to create a more impressive, classy, and modern home, a simple first step is to start with the color of your kitchen. It can make a huge difference in how people feel about the entire space. Here are the four reasons why white cabinets are still the number one choice for most USA families: <!- wp:more -->
1. MODERNIZATION MAGNIFICATION
White cabinets can create an instant, modern facelift that will shift the energy of your entire home. During the '70s and 80's it was a popular trend for designers to adorn their kitchens with dark woods. Often walls were covered in dark brown paneling.
Perhaps the motivation behind this trend was to hide spills and messes. Unfortunately, the overarching effect was that it left many kitchens feeling like claustrophobic caves. It also made it challenging for people to see food stains and crumbs, as they tended to blend into the dark surfaces. This led to grungy, grimey kitchens that never seemed to get truly clean. The stagnant energy of an old design can leave your entire home feeling tired, dull, and stagnant. This can affect your mood and your energy levels. Brightening and bringing your kitchen into the 21st century will effortlessly upgrade every facet of your daily experience.
2. NATURAL LIGHT
White, in general, reflects light, so white cabinetry will help brighten a darker space or a kitchen without any natural light. While it may have been trendy then, modern home dwellers are more realistic about the dim, heavy aesthetic reality that old, dark wood can create. You will notice the way that your mood shifts when you enter a room with more light. Beautiful, elegant white cabinets will not only expand your perception of the space itself but will also reflect and amplify the natural light coming in through the windows. As a result, the kitchen will feel more spacious and wider open. As a result, you will feel happier when entering the room. You can enlarge and illuminate the perceived space without even knocking down any walls or adding any light fixtures! Magic!
3. IT BLENDS WELL WITH EVERYTHING
Besides being timeless, classy, and pleasing to the eye, white cabinets also go with absolutely every other design feature you could install in the space. Want to put in a uniquely patterned wallpaper? Do not worry about it clashing! White is inherently neutral and will melt into the background, allowing your quirkier details to be featured without creating a busy, chaotic aesthetic in the space. Once you have white kitchen cabinets, you can easily revamp the vibe of your kitchen every year, simply by changing the color of the walls or adding wallpaper. White fades into the background invisibly, creating more visual space for all the other elements of personal style that you want to feature in your home. Everything matches effortlessly. This means you can get even more creative with your artwork, your bevy of appliances, and your wall design.
4. IT MAKES IT TO EASY SELL A HOUSE
As if you needed more reasons, the simple fact is that a kitchen with white cabinets has a higher resale value if you are considering ever putting your house on the market. Most buyers want them, and it will be visually pleasing to their eyes to enter your home and see white kitchen cabinets already in place. On the other hand, if they know that they will have to do the project themselves, they may not be enthusiastic about purchasing the home. Every tiny design element in your home that enhances your personal experience will also magnify a potential buyer's enthusiasm about buying it. It is a wise investment into your own daily experience, as well as any future home buyers.
Simplicity is elegance. You deserve to live in the most beautiful space your soul can imagine. So give your family what they deserve, and watch how it changes your mood, energy, and daily experience.
White cabinets remain the most used color for kitchens. So, if you are thinking of renovating your kitchen, you should consider checking out our elegant white cabinets right now.