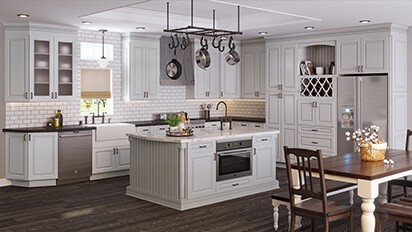 Get Ready to Remodel: Navigating Black Friday Kitchen Deals
Black Friday Sale
Are you looking forward to Black Friday sale savings for your kitchen remodel? Keep reading and learn where you should start here.
<!- wp:more -->
The average kitchen remodel can be anywhere from $13,000 to $34,000. That number can inch up even higher to $50,000, depending on if you are upgrading appliances or going ultra-lux with your renovation.
It's no wonder you might be looking for a way to cut that price anywhere you can. Black Friday is coming up fast and is the perfect time to score some major deals that can help shrink your kitchen remodel cost.
But we all know that a Black Friday sale can be super intimidating. With so many deals over the course of so many days, how do you know what to buy and at what time? Are there mistakes you can make during Black Friday?
Don't worry, we have you covered.
Here is your complete guide on how to navigate this upcoming Black Friday to get the best deals for your kitchen remodel.
1. Know What You Want
First things first, ahead of any Black Friday sale you need to know exactly what you want. Otherwise, you can get duped into buying things you don't actually need and spend more money than you would have.
Plan ahead of time what you need to get for your kitchen remodel.
2. Go Full Speed Ahead with Major Kitchen Appliances
There is no better time to upgrade major kitchen appliances than when you are remodeling a kitchen. When everything, including kitchen cabinets, paint, and flooring is new, you don't want to be stuck with the same old 20-year-old refrigerator.
Black Friday is an excellent time to buy new major kitchen appliances, like dishwashers, refrigerators, ovens, and more. Part of the reason is that these items typically take up a lot of space in big box stores. Stores know they can move these items quickly and free up more room for other items during Black Friday.
Prioritize major appliances on Black Friday to save big on your home remodel.
3. Think Big On Any Electronics
Another pro tip for Black Friday is this. You will also find a better deal on something if it's electronic or a smart device. That's because technology changes so quickly, these big box stores do not want to be caught holding onto old tech.
So, if you are thinking about upgrading your refrigerator, consider getting a smart refrigerator. You are more likely to get a better Black Friday deal on something that is Wi-Fi enabled or a smart device than one that does not have connective capabilities.
4. Countertop Appliances Can Wait
All kitchen appliances will have awesome deals on Black Friday, right? Even things like microwaves, blenders, and air fryers?
Wrong.
With that said, one group of items that you can hold off on buying on Black Friday are countertop appliances. The deals on these are not as good as they will be on Cyber Monday. Save on these items and buy them online if you can.
5. Ensure Any Free Perks
If you are putting down some serious cash on a major kitchen appliance, do not be afraid to negotiate a little bit. Try to secure free shipping if you can or free set-up. Many companies will hide those perks on Black Friday since they are already offering things at such a great discount.
Ask a salesperson or their customer support team to see what free perks you can get. Also, you might be able to get something to accompany your new dishwasher, like a free extended warranty or dish towels. It never hurts to ask.
6. Research Doorbuster Deals
Sometimes, it's all about timing. Certain Black Friday deals only happen for those first in the door at some stores. Doublecheck the flyers that come in the mail or at the store to see if there are any deals that will reward the early birds.
Sign up for newsletters online for your favorite stores you plan on hitting for your kitchen remodel. Don't forget to check your email for any news on doorbuster deals. This trick can save you hundreds of dollars on top of already killer Black Friday sale deals.
7. Plan Ahead
As with any foolproof plan, you need to have a game plan for this upcoming Black Friday. Know exactly what stores you are going to hit in person and at what time. It might sound goofy, but even routing the distance between each store so you know exactly where to go can help make your Black Friday experience much more efficient.
Also, know when you are going to make any orders online. Sign up for their loyalty programs ahead of time to snag any first-time customer discount codes to use on top of the Black Friday sale.
Planning ahead can save you mountains of money from your overall kitchen remodel.
How to Get the Most Out of a Black Friday Sale for a Kitchen Remodel
A kitchen remodel contingent on a successful Black Friday sale might sound intimidating to some, but now, you should be armed with the knowledge and tips you need to make it on top.
And don't forget about all the other things to accompany your new kitchen remodel, including kitchen cabinets.
If you are in the market for new cabinetry to complement your kitchen remodel, be sure to visit us here at White Cabinet. We are a supplier of high-quality RTA cabinets that serves dealers, builders, designers, and homeowners. Browse our selection of kitchen cabinets for your upcoming remodel and get a free kitchen design quote from us ahead of Black Friday.