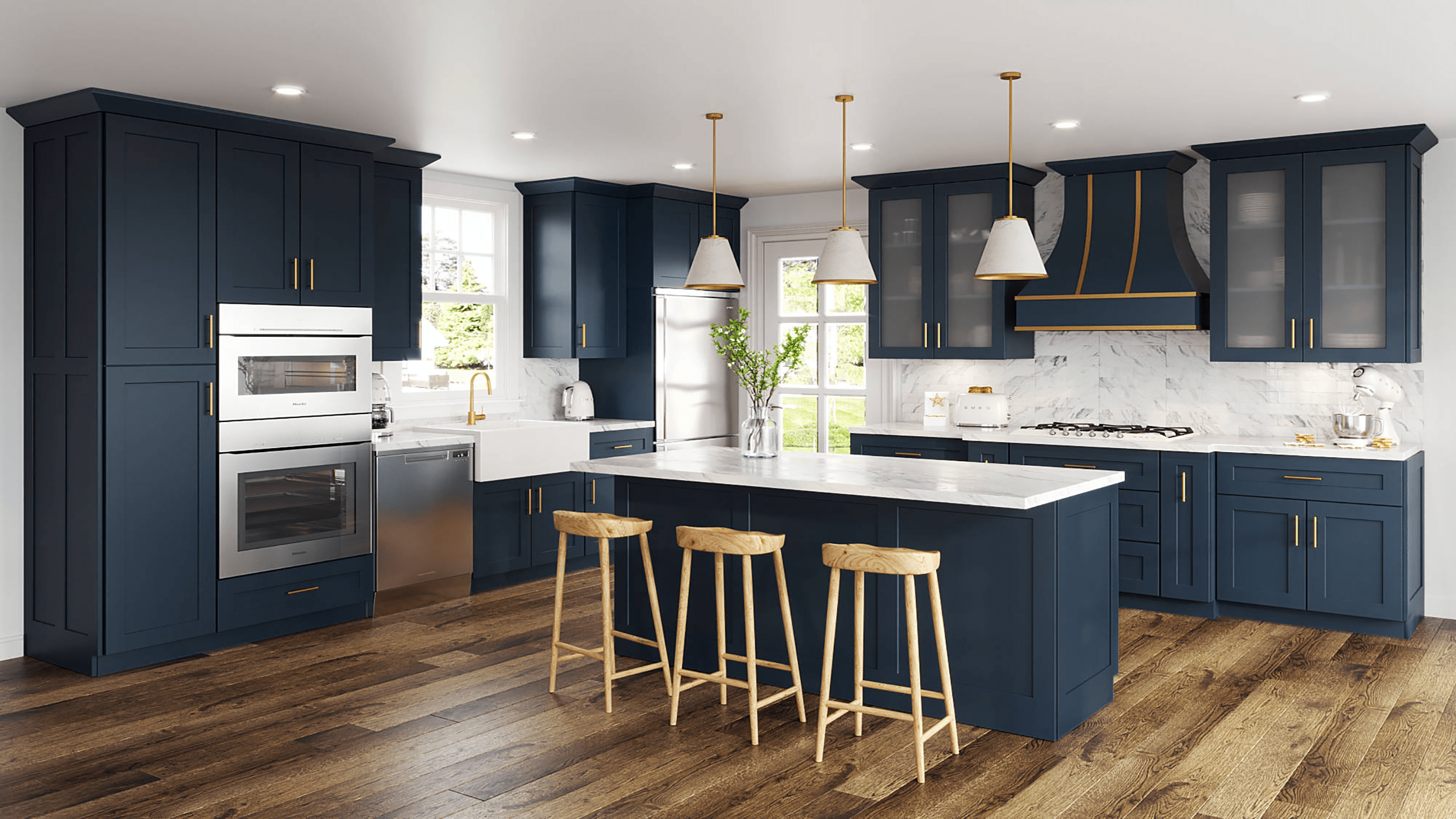 Ways to Use Aria Blue Cabinets in Your Kitchen
Blue cabinets have been popular for a while now. They add pop to your kitchen that you can't get with black, white, gray, or wood colors. They are also versatile, and able to match more colors than you think.
Aria blue cabinets are one of the most popular shades of blue cabinets, and for a good reason. They create a great atmosphere in your kitchen and can match a wide variety of other materials and colors. There are many great ways to use aria blue cabinets in your kitchen.
Why Should I Choose Aria Blue Cabinets?
Aria blue is an excellent option for kitchen cabinet color that you will be happy with for many years to come. It's versatile, easy to clean, creates a homey atmosphere, and has a timeless look.
Versatile
Aria blue kitchen cabinets can go with a wide variety of styles. They can be a pop of color that acts as the centerpiece of a room or blend with the rest of the room to create a more soothing tone. Arai blue cabinets can make your kitchen feel like a beach vacation with white colors around them to brighten up the place while the cabinets look and feel like the ocean. They can also pair with neutral or darker tones for modern or homier kitchens.
Homey Kitchen
Speaking of homey kitchens, aria blue cabinets are excellent at creating a comfortable space. The dark tone helps ground the room, helping you to sit and relax in your kitchen. If you have a large kitchen, aria blue kitchen cabinets can even help "slim down" your kitchen, helping it feel cozier and smaller.
Easy to Clean
Many people love white kitchen cabinets, but they are difficult to keep clean. Dirt doesn't show up on aria blue kitchen cabinets as easily, making your kitchen look and feel clean even if there are a few minor stains or spilled coffee grounds. Then to get them looking clean and fresh, you won't have to work as hard as you would with white or light gray cabinets. Just a light cleaning will make them look sparkling.
A Timeless Look
Aria blue cabinets seem like a trend, but they are a lasting addition to your kitchen. Between their practicality, their versatility with so many styles, and their ability to make a kitchen feel like home, they will remain a popular look for a long time.
Colors to Pair with Aria Blue Cabinets
As we've gone over, aria blue kitchen cabinets' strength is their versatility to pair with other colors.
White
Beach vibes all the way. Surrounding your aria blue cabinets with white surfaces gives your kitchen a beachy style that makes it feel like summer all year long. The contrast between white and dark blue also keeps natural light bouncing around while grounding it just a bit.
More Blue
Wait, more blue? Yes, more blue. You can mix in different shades of blue on other surfaces in your kitchen to give it more depth and texture.
Gray
Pairing gray colors with your aria blue cabinets create a more neutral, calming feeling in the kitchen. Rather than popping out and being an attention-grabbing piece, the aria blue cabinets will smooth out your kitchen, great for a modern aesthetic.
Materials to Pair with Aria Blue Cabinets
When installing aria blue cabinets, it's essential to find countertops and backsplashes that work well with your cabinets. We recommend marble, limestone, and granite countertops to bring out the best in your aria blue cabinets. Neutral-colored subway tile also helps bring out the best in your cabinets.
Styles That Work Best for Aria Blue Cabinets
One of the best parts about aria blue cabinets is that they can go with many different styles. Beach and modern styles are our favorites.
Beach
Pairing aria blue cabinets with white surfaces create a fantastic nautical theme that will keep your kitchen lively. Your kitchen will be bright and uplifting. It works exceptionally well for smaller kitchens, so the contrast and white surfaces help light bounce around and make the kitchen feel larger.
Modern
Most people think of black, white, and gray for modern-style kitchens. However, aria blue cabinets can seamlessly blend with gray surfaces and even metal. You'll still have that modern kitchen look, but with a little more color.
Get Aria Blue Cabinets
We have high-quality aria blue cabinets here at White Cabinets that will last through many years of kitchen redecorating and renovating. Their style and versatility will stand the test of time. Order your aria blue cabinets today!