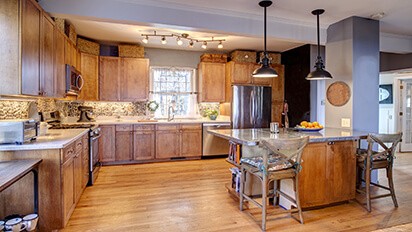 The Buying Guide for The Best RTA Kitchen Cabinets For Your Home
The Best RTA Kitchen Cabinets For Your Home
If you're thinking about getting new cabinets for your kitchen, RTA kitchen cabinets may be the perfect choice for you. Learn more.
RTA Kitchen Cabinets
One mainstay in any kitchen is cabinetry. Your kitchen needs cabinets; most importantly, they're necessary for storage and organization. Keeping your kitchen clutter-free makes using it more manageable.
Cabinets are also an essential part of your kitchen's style. A lovely cabinet set can do wonders for your kitchen's aesthetics.
Do you know what else makes your kitchen look good? Properly fitting cabinets.
RTA kitchen cabinets are a perfect fit for your next kitchen remodel, but you need to be sure that they, well, fit where you want.
Luckily for you, RTA (Ready To Assemble) cabinetry comes in standardized dimensions, so you can place the correctly sized storage units where they need to be.
RTA Kitchen Cabinet Dimensions
All types of cabinets (semi-custom, preassembled, etc.) come in similar sizes. The differences between cabinet types are mostly cost and whether you have to put them together yourself.
The following list is a handy guide to help you with the different cabinet dimensions.
Base Cabinets
Base cabinets are the storage that surrounds heavier kitchen items like refrigerators, wine coolers, dishwashers, and stoves. You may also store pots and pans here.
A set of base cabinets will often be 34.5 inches (about 3 feet) without the countertop and 35 to 36 inches tall with it.
The three-foot height makes the cabinets accessible enough for most people to use for food prep and other kitchen tasks.
All cabinets' depths are measured from the outer edges to the end of the wall. Larger kitchens tend to have 24-inch deep cabinets. Smaller kitchens can't accommodate storage that deep; their base cabinets are 12 inches deep.
Width is where you'll see the most variation for base cabinetry and depends on how you're using them. Cabinet width can vary from 9 inches to 64 inches. Common cabinet widths and uses include:
Lazy Susan – 42 inches

Single-basin sink – 30 inches

Double-basin sink – 33 to 36 inches

Pull-out drawers – 9, 12, 18, or 24 inches
Carefully consider your needs before ordering your cabinets. You have to account for your kitchen size, storage needs, and cooking preferences.
Corner Base Cabinets
Corner cabinets are made specifically to fit into the corners of your base cabinet set. The awkward positioning makes it difficult to store items into the interior shelving. A lazy susan can compensate for the tight fit.
Corner cabinets will follow the exact dimensions as the rest of your base cabinetry – 34.5 inches tall and 24 or 12 inches deep. Ill-fitting corner cabinets can make a set look mismatched.
Taller people may need taller cabinets. You can choose thick countertops to accomplish this, or you can commission a custom box frame to raise the cabinet height.
A contractor can hide the frame behind a toe kick and molding.
Kitchen Island Cabinets
Kitchen islands are popular spots to eat and prepare food. Some islands even have built-in stovetops, so adding storage here is a sensible decision.
Island cabinets should match the base cabinet height. The depth depends on how much storage space you want. A 48-inch deep cabinet set will be two 24-inch deep units set back-to-back.
If you're using the island as a bar or eating area, 24 inches is deep enough. The counter underside needs to have clearance for the diner's legs and feet.
The kitchen island cabinet width needs to be proportionate to how much space is around it. 42 to 48 inches of open space around the island will allow for enough walking room.
Your storage shouldn't take so much space that there's nowhere to walk or stand around the island openly.
Wall Cabinets
Wall cabinets are where lightweight kitchen utensils like plates and glasses go. Some people also use them for food storage, although they may split this duty with the pantry.
Wall cabinets also immediately draw the eye when you step foot into a kitchen. They're likely to be the most decorative pieces in your RTA kitchen cabinet storage set.
As their name suggests, many homes have these cabinets hanging from the wall with studs and screws.
Height
Some kitchens have islands placed near soffits, and it's not uncommon for homeowners to hang wall cabinets overhead this ceiling structure. Cabinetry lining soffits are 30 to 36 inches tall.
A wall cabinet can't be taller than the area between the countertops and ceiling, so 12, 36, or 42 inches are the usual heights. If you want ceiling-high cabinets, you can get 48-inch tall ones.
Refrigerators take a lot of space, so cabinets above them are about 12 or 15 inches tall.
Depth
A wall cabinet can't be as deep as a base cabinet because it would get in the way of the countertops. The deepest a wall cabinet can be is 24 inches, but most people opt for 12 inches to maximize counter space.
The exceptions are cabinets above microwave ovens and refrigerators. Microwave oven cabinets are 15 to 18 inches deep, and fridge cabinets are 24 inches.
Width
Wall cabinet width is 9 to 48 inches in three-inch increments. Anything past 36 inches is considered uncommon. Thirty inches are what you'll commonly see for double- and single-door and side cabinets.
Tall Cabinets
Tall cabinets can be a kitchen utility unit or pantry spaces. Tall cabinets are 82 or 96 (floor to ceiling) inches tall. The shallower 12-inch deep cabinet is more than enough to store canned goods.
Meanwhile, cleaning equipment like mops, brooms, and vacuums fit more efficiently in a 24-inch deep cabinet.
Tall cabinets are 12 to 36 inches wide. Twenty-four inches is good enough for most people. If you want the cabinetry to have pull-out drawers or built-in door storage, consider installing a 36-inch wide storage space.
Looking for the Best RTA Kitchen Cabinets Online?
This RTA kitchen cabinet dimension guide will hopefully assist you with purchasing the right cabinets for your kitchen renovation. RTA cabinets are a cheap, flexible option if you're looking to update your storage.
Are you interested in some new cabinets but you're not sure what to buy? Do you want samples to look over?
We've got all your cabinetry needs covered at White Cabinets. Contact us right here< if you're ready to revitalize your kitchen storage space.