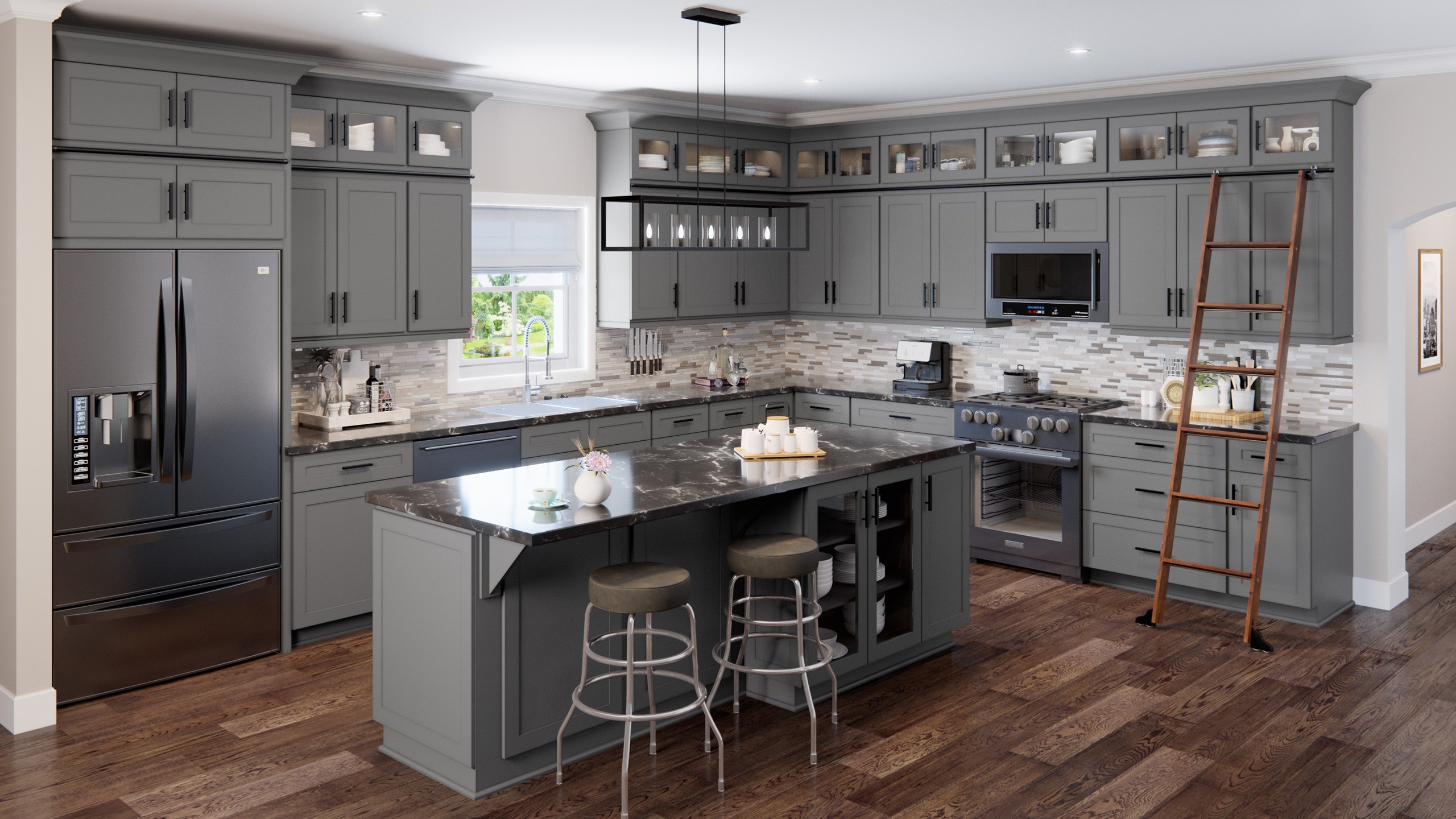 Find the Best RTA Kitchen Cabinets: A Step-by-Step Guide
Americans on average spend close to $15,000 for a kitchen remodel, with major works hovering around the $50,000 mark. The kitchen is one of the most expensive home remodeling projects, which is why RTA kitchen cabinets are increasingly popular. With its lower price point and variety of designs, it's no surprise that RTA kitchens are an excellent option for the budget-conscious.
But the question of quality still remains – can you build your dream kitchen using flat-packed kitchen cabinets?
Absolutely! But, with so many options on the market, it can be difficult to know what is good quality.
So to help you, we've put together a guide on what to look out for and how to know which are the best RTA kitchen cabinets that will stand the test of time.
Are RTA Kitchen Cabinets Cheaper?
Ready to assemble (RTA) kitchen cabinets, as the name suggests, come flat packed. It's designed to be easily installed by anyone with good DIY skills, which comes as a cost-saving for you. You will also enjoy cheaper delivery costs since it takes up less space in comparison to fully assembled cabinets.
Nonetheless, there are factors that will influence the cost, such as the finish, what material you choose and special features.
Lower-end cabinets might be made from laminated chipboard or MDF with simple door designs. While materials such as veneers and more complex joinery will push the prices up.
Looking at the Joinery
One way to assess the quality is by looking at the cabinet joinery. This is how the different parts of the cabinet are put together, and is key to knowing whether the quality is on par with custom-made cabinets. High-quality joinery will ensure that your cabinets last for a long time.
Quality methods of joinery include the use of dowel rods and glue, dovetail joints, and tongue and groove joints to name a few. Whereas cam locks are generally found in cheaply manufactured cabinets – often seen in Ikea furniture. Cabinets that use dado assembly are another common joint method found in lower-end pieces.
As one can expect, better joinery will also command higher prices. So you'll need to think about how much you plan to spend and whether you need something that lasts. For example, if you plan to move on from your home in a couple of years, then it may not be worth spending the extra dollars.
Types of Wood
Starting with the reconstructed woods, the most common ones are MDF, chipboard, and plywood. These will often be coated in plastic laminate or an equivalent coating.
On the other end are hardwood varieties that are both durable and attractive. Some of the most popular are Oak, Maple, Birch, and Ash which can take a lot of abuse in the kitchen.
However, keep an eye out for anything that's made of Poplar or Russian Birch. These softer woods are more likely to dent and will look worn, a lot faster.
Cabinet Finish
The finish is as important when it comes to longevity. The most durable finish for kitchen cabinets is chemically cured and known as conversion varnish.
It's fast-drying and applied in two steps – application of the finishing with an acid catalyst, and heat. This creates a chemical reaction that turns the varnish into a hard finish making it the ideal finish for cabinets.
Traditional lacquer is another popular finish seen on kitchen cabinets. They are not as hardwearing as conversion varnish, but they make up for it when it comes to application. Since lacquer is easy to apply, this makes touch-ups a breeze in comparison to conversion varnish.
Where Can You Buy RTA Kitchen Cabinets?
A good place to start your search is to check for RTA kitchen cabinets online. Online shops will have a larger range of cabinets to choose from which is also useful if you're stuck on home remodeling ideas. But, it's a good idea to also visit a physical store as it can help you get a feel of what kind of style and features you need.
You'll want to gather accurate measurements of your kitchen plus a list of all the must-haves. Common dimensions of RTA cabinets start from 12 inches, with floor-to-ceiling cabinets measuring up to 48 inches in height.
Before placing an order, make sure to ask for a sample of the cabinet doors as they may look different from the pictures on the website. Whether you choose to shop locally or through an RTA kitchen cabinet wholesale company, keep in mind that smaller stores may not always have your design in stock.
DIY or Home Remodeling Contractor?
Although RTA kitchen cabinets are designed for you to easily put together at home, you'll need to have at least an intermediate level of DIY skills. And if you don't? Then not to fret, as you can always hire a home remodeling contractor to help you put it together.
If you're only making a few small changes to your kitchen then choosing to do it yourself is completely doable. However, big changes to the structure, electrical rewiring, and plumbing works are best left to the professionals.
Start Designing Your Kitchen Today
A beautiful kitchen is one of the best investments that you can make for your home and an expensive one. But with the rise of high-quality RTA kitchen cabinets at affordable prices, more people are bringing their kitchen fantasies to life. Remodeling your kitchen might be a large undertaking, but all you need are a few measurements and a Pinterest board of ideas to get you started.
Looking for some design advice? Then get in touch to find out how we can help turn your ideas into reality with our free kitchen design service.