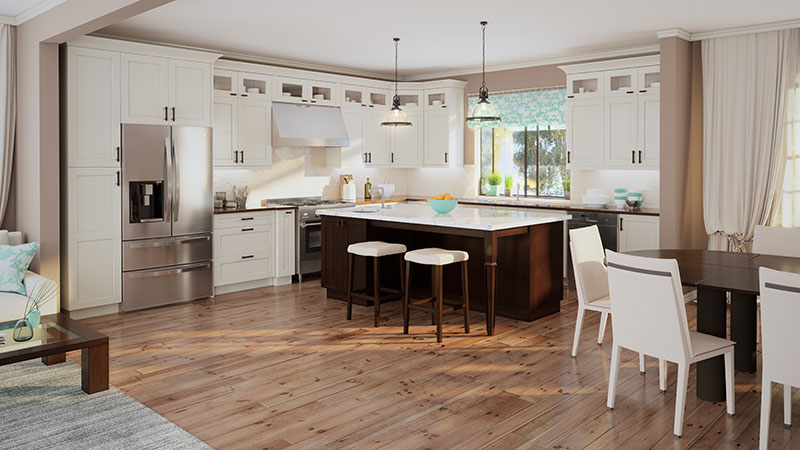 Why You Should Replace Your Kitchen Cabinet Doors?
The kitchen is one of the most important rooms in your house. It's where you spend some of your most memorable moments as well as a lot of time preparing meals and snacks for the rest of the family. Because of this, it's crucial that your kitchen looks its best so that it doesn't get in the way but instead adds to the ambiance. One great way to do this is by investing in new kitchen cabinet doors.
You might be thinking: What does replacing my kitchen cabinet doors have to do with making my home more inviting? Well, if you're looking to revamp your home in order to make it more functional and user-friendly, then you need to start replacing outdated fixtures, appliances, cabinets, and more with updated versions. Replacing the old kitchen is one simple way to freshen up the look of your home's interior design.
Your Kitchen Cabinet Doors are Old and Damaged 
Do you have old, worn-out kitchen cabinets? If your answer is yes, then you should think about replacing them sooner rather than later. Replacing kitchen cabinet doors is an excellent home improvement project because it can give a new look to the kitchen. You will be surprised by how much better a well-designed kitchen looks with new cabinet doors. Kitchen cabinet doors are used to close the space between cabinets, and this is where their aesthetics come in. There comes a time when no amount of cleaning and polishing is going to give your old cabinets the same look they had when they were fresh and new. Scratches, scrapes, weakened hardware, and water damage are just a few things that can really take a toll on the cabinet doors.
New Kitchen Cabinet Doors Give Your Kitchen a Face Lift 
By simply changing your kitchen cabinet doors for new stylish ones, you can uplift the look of your entire kitchen! Different styles and colors can create an entirely new feel in your kitchen. Try browsing through RTA kitchen cabinets to get an idea of what you want your kitchen to look
You're Just Ready to Switch Your Kitchen Cabinet Doors Up! 
Sometimes we just get tired of seeing the same old environment. You don't owe anyone any excuses for that. It's your home and your space should make you happy and comfortable to be there. If you have the budget to change it, why not go for it? Switching out your kitchen cabinet doors is an affordable option to breathe new life into your kitchen. Be aware, however, that if you want to change the cabinet doors, you may also want other parts of the cabinetry to match such as drawer doors, so make sure to figure up how much you are willing to put into the replacement budget when you get started.
Don't Forget the Hardware Options 
In addition to the new cabinet doors, you should consider what type of hardware you want to put on your doors. Hardware includes knobs, pulls, and hinges. Pulls work better with long draws and knobs work better with short drawers. Although hinges aren't always visible, you may want to get some in a color that compliments the pulls and knobs.  There are many different styles such as modern, vintage, rustic, and more to suit your taste. Small details like hardware affect the overall look of your kitchen!
Ready to Replace Your Kitchen Cabinet Doors? 
If you are ready to upgrade your kitchen with new cabinet doors, White Cabinet is the right place to get started. Contact us today to learn more about replacing your old cabinets with gorgeous, high-quality ones from White Cabinet!