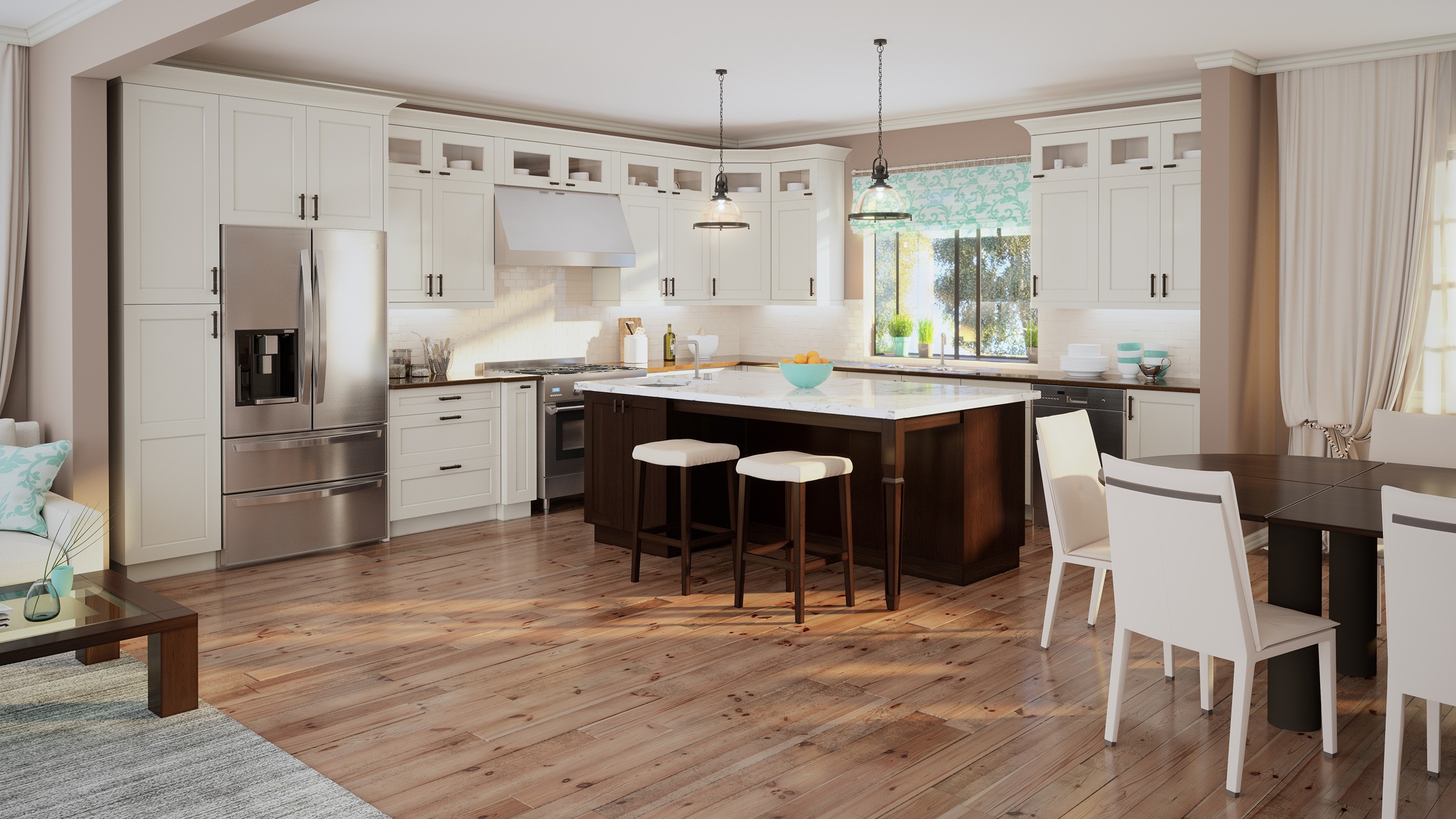 Ways to Save Money on New Kitchen RTA Cabinets
Like many Americans, you are likely spending money on home renovations. You'll spend money on new appliances, flooring, and kitchen cabinets when you do a kitchen remodel. And if you are like just about everyone else, you want to save a buck on your kitchen renovation.
You can save money on your kitchen remodel and kitchen cabinets by purchasing RTA cabinets, shopping sales, and painting your kitchen cabinets. You don't have to spend a fortune.
Here are a few ways to buy your cabinets without breaking the bank.
RTA Cabinets Can Save You Money on Your Kitchen Cabinets
Buying RTA cabinets (ready-to-assemble) can save you money. With labor costs at all-time highs and construction costs going through the roof, purchasing these cabinets is a great choice. You can buy well-constructed cabinets without the hassle of dealing with a custom cabinet maker.
When you buy RTA cabinets, you must put them together with a set of instructions. It will take some time, but you can save money when you do the work yourself. Ready-to-assemble cabinets come with a complete set of instructions.
RTA cabinets come with the necessary hardware to make your cabinets look like they are in a showroom. Assembly and installation are as fast as you want to work. You can take your time to make sure you do everything right, and they look great!
You might think RTA cabinets shipped to your home will cost you extra money with shipping costs. However, many companies will give you free shipping because you spend several thousand dollars. The best kitchen cabinets will come securely packaged right to your door.
Kitchen cabinets can run in the tens of thousands of dollars. RTA cabinets are a fraction of the price.
Do ready-to-assemble cabinets scare you? There are plenty of online apps where you can hire people to come to your home to assemble your kitchen cabinets. Even going this route can save you money!
Painting Your Cabinets
If you don't have the money to replace your kitchen cabinets during your kitchen renovation, painting your cabinets might be a good option. Before you dive into a paint job, it's best to determine if your cabinets are in good enough shape to paint. It might be more accessible and a better investment to replace them altogether with broken doors.
There are plenty of paints and finishes on the market, so you can paint your cabinets without calling in a professional. A quick trip to the home improvement store, and you can see the vast array of paints to choose from as well as colors!
You must first determine the type of surface of your kitchen cabinets. If they are wood, it's much like painting any other wood furniture or exterior in your home. Laminated kitchen cabinets may require some additional work to get the surface smooth and the paint to stick.
In many cases, it's best to strip the cabinets right down to the bare wood before you paint.
Painting projects require you to put down dropcloths and prep the room. You will have to tape off anything in your kitchen where you don't want paint! It takes time, but taping off your kitchen to avoid paint drips makes clean-up much easier.
Removing the doors from cabinets is a big step in the painting project. You'll want to mark each door and make sure you don't mix up where they belong, and be sure to place the hardware in a spot where it won't get lost. Move the doors to a separate work area to give you room to paint.
After you paint the cabinets and doors, all you have to do is let them dry, and then you can re-assemble! Painting cabinets can save you money, but it will cost you time.
Shopping Sales
Everyone loves a good sale, especially when buying kitchen cabinets. Many manufacturers put their cabinets on sale throughout the year to move outdated stock or make room for new merchandise. You can take advantage of deep discounts when you buy kitchen cabinets.
Keep checking back with the manufacturer about when items might go on sale. Talk with someone at the company to find when a deal might happen. Look for online coupons!
Even the best kitchen cabinets go on sale, so keep your eye out for a good buy! Why pay full price when you can snag them on sale?
Architectural Salvage Yards
When contractors tear down or remodel a home, sometimes the interior pieces of a home end up in an architectural salvage yard. Warehouses are full of used doors, windows, furniture, and kitchen cabinets.
You can find great deals on cabinets that might need some TLC. When you browse an architectural salvage yard, you can find cabinets that need some fixing and painting but still might be in great shape.
Since an architectural salvage yard gets materials from all types of homes, you'll likely find several different styles and features. Depending on the look of your home, you can find something inexpensive.
However, if you use this way to buy kitchen cabinets, there are downfalls. Since the cabinets are not custom, they might not fit right, or the sizes won't be what you expect. They also might require extensive fixing and labor.
Much will depend on your handiwork! This might be an excellent option for the best kitchen cabinets if you can fix things with ease.
Buying Kitchen Cabinets Without Breaking the Bank
You don't have to break the bank when doing a kitchen remodel. You can buy RTA cabinets, paint your kitchen cabinets, or shop sales to get a deal. For some, shopping in an architectural salvage yard might also be an option.
When you remodel your kitchen, you don't have to spend a fortune on kitchen cabinets.
Choosing RTA cabinets can save you a bundle of money for your kitchen remodel. Contact us today, and we can help you get the best RTA cabinets for your budget to make sure your kitchen looks great!