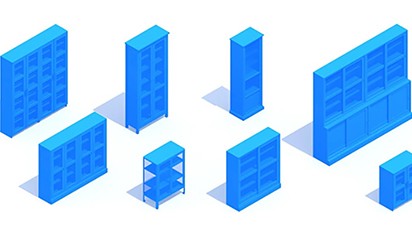 Most Common RTA Cabinet Dimensions Everyone Should Know
Cabinet Dimensions
Getting new cabinets is a great way to give your kitchen a facelift. Ready to Assemble or RTA cabinets are one of the more popular options on the market for their simplicity and quality.
But you still need to make sure that you're getting the right-sized cabinets for your house. How do you know that the cabinets will fit in your kitchen?
The good news is that cabinets come in various standard sizes. This makes it easy to design and install all of your cabinets in a way that looks seamless.
Read on the learn all of the standard cabinet dimensions that you can find for RTA cabinets.
Base Cabinet Dimensions
The first type of RTA cabinet is the simple base cabinet. These are the cabinets that sit beneath your countertops. They will hold your sink and usually surround your refrigerator, dishwasher, and oven range.
Most of these types of cabinets are going to be about 34.5 inches tall to ensure accessibility. This is before the countertop is installed. With a countertop included, these cabinets can reach between 35 to 36 inches tall.
Depth is going to depend on how big your kitchen is. Most large kitchens are going to have base cabinets that are 24 inches deep. However, some base cabinets are 12 inches deep that are meant for smaller kitchens.
The width of each base cabinet is going to vary the most. This will depend on what you intend to do with these cabinets. They generally start as wide as 9 inches and go up in three-inch increments.
If you want to create pull-out drawers, then your best bet is to go with a 9, 12, 18, or 24-inch wide cabinet. Sinks will be best housed inside of 30, 33, or 36-inch wide cabinets. The widest base cabinets are 42-inches wide and are ideal for installing lazy susans.
Corner Base Cabinet Dimensions
As the name implies, corner cabinets are designed to sit in corners alongside your normal base cabinets. This usually refers to the corners of your kitchen.
In many cases, parts of these cabinets can be fairly hard to reach. Most people will choose to install lazy susans inside of these cabinets because of this. This provides the owners with easier access to items such as spices.
Otherwise, they usually use these cabinets for items that aren't used as often.
The heights of these cabinets are going to be the same as the base cabinets, or 34.5 inches tall. This is so it will match the rest of the cabinets. They must also follow accessibility regulations.
The depth is also going to be the standard 24 or 12 inches. Again, this is so your cabinets will all match. Otherwise, you'll be looking at odd gaps between cabinets once everything's assembled.
Pantry Cabinet Dimensions
These are going to be tall cabinets designed for pantries or utility closets. These are going to store all of your foods that don't need to be refrigerated. For families, they tend to need to be taller to hold everything in one place.
Because of this, these cabinets will occasionally run from the floor up to the ceiling. The means that the standard tall cabinet will have a height of either 82 or 96 inches. A 96-inch tall cabinet is going to run from your floor all the way to your ceiling.
The depth of your cabinet is going to depend on its purpose. For a pantry, most people will only want a 12-inch deep cabinet to make things easier to see. But if you're using it for a utility closet, then you might need it to be a bit deeper to hold cleaning supplies like brooms.
The width of these cabinets is going to range from between 12 to 36 inches. Most people find that a 24-inch cabinet is plenty of space for a pantry or utility closet. You usually would only get a 36-inch wide cabinet if you need the extra space for something else at the same time.
Wall Cabinet Dimensions
Finally, wall cabinets are usually going to hang above your countertops. Because they have to stay up on the walls, most people use these for lighter kitchen items. They might use them for food, cups, or plates rather than heavy pots and pans.
These cabinets have a little more leeway in terms of their dimensions. This is because they aren't restricted by accessible building codes.
The standard heights of these cabinets are usually 12, 36, or 42 inches. However, if the cabinet goes all the way to the ceiling, then there are also 48-inch tall cabinets for this. Cabinets that are going above refrigerators will usually be either 12 or 15 inches tall.
And if the cabinet is enclosed by soffits, you will usually want either a 30 or 36-inch tall cabinet.
Most wall cabinets are going to be shallower than their base counterparts. This is so that people can have more room to use the countertops. So while it is possible to get wall cabinets that are 24-inches deep, most people are going to want a 12-inch deep wall cabinet instead.
The widths are generally going to be the same as the base cabinet. You can get these from anywhere between 9 and 36 inches wide in 3 inch increments.
Get Your RTA Cabinets Today
Go ahead and measure your kitchen. This will give you a good idea of the dimensions you'll need. From there, you can decide what combination of cabinet dimensions you want in your renovated kitchen.
This is the best way to design and arrange your new RTA kitchen cabinets in your kitchen.
And White Cabinet is the best place to get them right now. You can order samples to figure out which ones you'd like! And when you're ready, we can ship your new cabinets right to your door.
Contact us today to get started!